20.11.2023
Paul Ricard at the forefront of electrifying the industry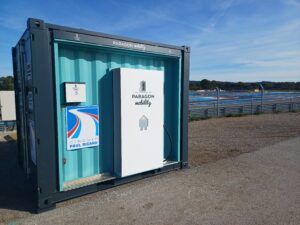 After the big success of the temporary deployment of a Nano Pod for two big events at Paul Ricard in November and December 2022, we just deployed a customised, branded Pod to the famous Circuit.
On race tracks, we are responding to the growing demand for high-quality charging infrastructure to support the ever-increasing number of events linked to the deployment of electric vehicles and, more generally, the energy transition in motor sports.
The deployment of charging infrastructure on race tracks has become increasingly important as the motorsport industry embraces the electrification of vehicles. With the growing popularity of electric cars and the push for sustainability, race tracks around the world are adapting to accommodate these changes.
One of the main reasons for the deployment of charging infrastructure on race tracks is the need to provide power for electric vehicles during races and events. Paragon Mobility has proven its ability to provide reliable charging infrastructure for high intensity and heavy usage, as needed on events and race tracks. 
Another reason for the deployment of charging infrastructure is to encourage the growth of electric racing. Electric racing has gained traction in recent years, with events like Formula E gaining popularity and attracting top-level drivers. By having charging infrastructure readily available on race tracks, it becomes easier for teams and drivers to participate in electric racing, further promoting the electrification of the motorsport industry.
The deployment of charging infrastructure on race tracks also plays a role in promoting sustainability within the motorsport industry. Electric vehicles produce zero emissions, helping to reduce the carbon footprint of races and events. By providing the necessary charging infrastructure, race tracks can facilitate the transition to electric vehicles. 
At Circuit Paul Ricard we currently offer a charging station equipped with 2 superchargers and 2 so-called "accelerated" chargers, allowing for the simultaneous charging of 4 vehicles.