The Paragon Pod: plug-and-play energy & charging solutions
We are mobile, we execute fast, we solve Your problem – Everywhere.
Flexibility and Adaptability are in our DNA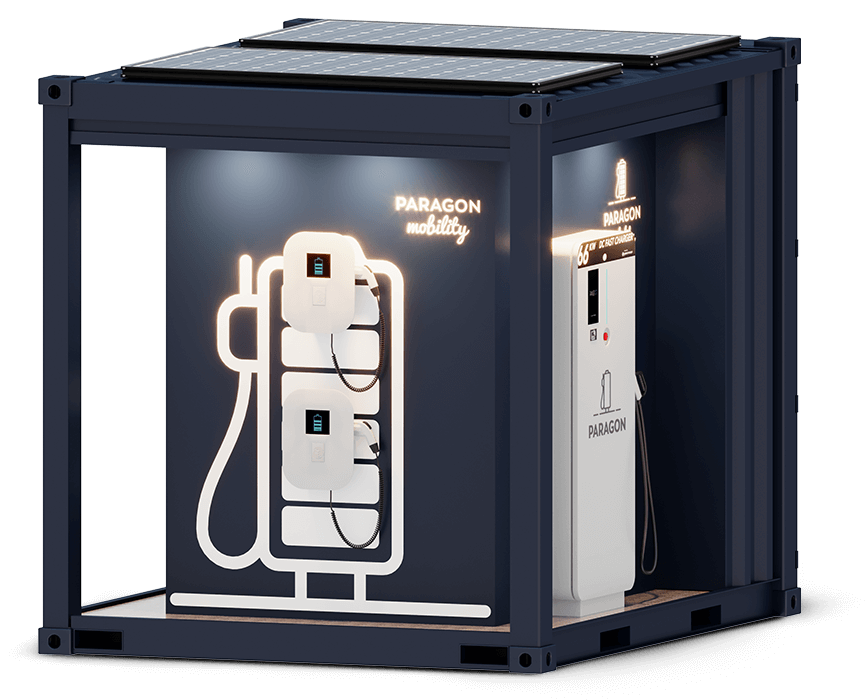 Customisable container Pod, different sizes, different colours. An industrial design object.
Optional battery storage up to 4 MWh.
DC superfast chargers, up to 300kW, 50% charge in typically 15-30 minutes.
Customisable LED lighting for enhanced user experience at night.
AC fast chargers, up to 22 kW, 50% charge in typically 2-3 hours.
Our unique Value Proposition


to customers
We make the complex simple
Turnkey, customised offer and service
Low upfront investment needed – from € 4 990,-
Leasing/subscription scheme – from € 790,- /month
Deploying in no time? No problem
Quick and easy: without civil works
Ultra fast deployment: 0-2 months, even for superchargers
Slow-grid and off-grid capability with optional battery or hydrogen storage
Start small & grow in confidence
Adjust to evolving and growing needs
Reconfigure: we add ports/power
Need a larger Pod? We swap them.
At your service, always
We maintain
We manage electricity
We handle data and cloud services
We provide other services such as emission savings or impact reporting
Turnkey? At Paragon Mobility,
it is a
simple fact.
#1
Project definition,
design & management
#4
Operation & maintenance supervision
#5
Decommissioning, upgrade or replacement
"Paragon offers a real turnkey solution - what has really convinced us, is the level of service, responsiveness and speed they operate with. This solution provides us with the flexibility we need to evolve and grow and deliver a successful transition to electric vehicles."

Vestas France
"The attractiveness of the Paragon Mobility Pods lies in the multiple charging points offered on a single Pod, including superchargers that can handle the large needs of the circuit's customers, who are by nature demanding.""

Director of LFG race tracks
"The advantage of the Paragon service is the ability to adapt to the site, with the option to customise the infrastructure to the site's colours, the all-inclusive service, reliability, maintenance and the quality of communication with our teams."

Director of LFG race tracks